An Evening with Lewis & Clark - Friday, April 5, 2024
Annual community event presented by the Bradford House Museum and Washington & Jefferson College.
An Evening with Lewis & Clark
Whiskey Rebellion Dinner
Save the date for the 2024 Dinner, November 8, 2024. Hilton Garden Inn Southpointe.
Event Details
Stop by and see our murals
We have two murals about the Whiskey Rebellion; see them right outside the Bradford House.
Mural Details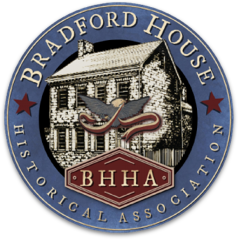 Open Today — 10 am to 4 pm
The Bradford House
A National Historic Landmark — Est. 1788
Step back in time at the Bradford House. Experience its beauty and heritage as guides in period clothing present its history, authentic furnishings, educational exhibits, and 18th-century garden, complete with a well house and log kitchen cabin.
Plan Your Visit
Open Today — 10 am to 4 pm
Whiskey Rebellion Education and Visitor Center
Built in 2021
Learn about the importance of the Whiskey Rebellion and David Bradford, a history unique to western Pennsylvania and Washington County. Some exhibits include an 18th-century-inspired cage bar and a whiskey still display.
Plan Your Visit
July 12 and 13, 2024
Whiskey Rebellion Festival
Honoring America's Early Days
This summer festival honors the significant period of America's early days through historic reenactments, history and heritage displays, street theater performances, children's area, music, food and libations, all the while shining a national spotlight on the city, county and region.
Festival Website